It's 2022. Of what value is a game designer degree? The video game market is expanding, with over 135 billion dollars in sales in 2018. With the industry predicted to grow, it will require many video game designers to enter the profession. Therefore, earning a degree in game design, which combines artistic and technological work, may pave the way for a successful and extended career.
Video game designers bring concepts to reality. They collaborate with other designers to develop a game's concept, draft it, and decide on its target audience and how it should play before getting to the public. Game design is a naturally interdisciplinary field. Therefore it requires someone who can think creatively, be flexible, and be at ease in multiple positions. Industry research estimates that 3 billion individuals play digital games worldwide, and the market is only expanding.
A video game designer's pay can vary based on region and employment. However, most can anticipate an annual income of about $60,000, with potential for growth as they gain experience.
Sponsored Listings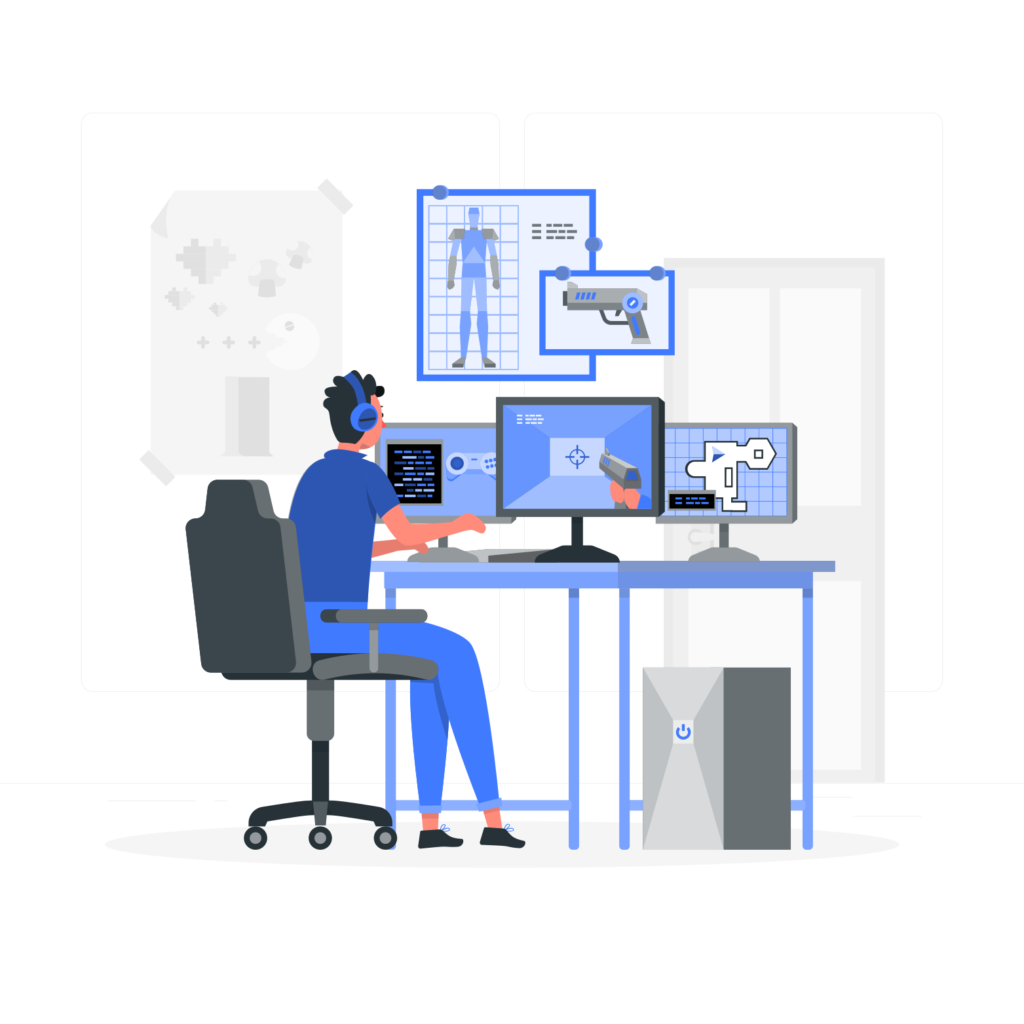 How to Decide Game Design Bachelors Degree is What You Need
A degree in game design can be a good fit for you if you:
enjoy dealing with complex computer software
are naturally artistic or creative
are passionate about video games
Let's go into detail.
1. Computer software is your thing.
Working with technical components of game production, such as programming, coding, and technical architecture, makes up a significant portion of video game design.[1] For end users, a video game's flawless operation and the realization of its aesthetics, narrative, and creative structure depend on its technical base. Programmers and other specialized computer positions are increasingly prevalent in the game development phase of the process.
However, to build a game's many design components, such as game mechanics and early design thoughts, a designer still needs to be knowledgeable about particular software packages.
2. Creative and artistic.
The creation of video games requires creativity and an understanding of design theory and aesthetics. By bringing the technical elements to life, the end users get an exhilarating experience. The ability to develop more exciting characters, environments, narratives, game levels, and difficulty levels for players may come from having an artistic instinct.
3. Gaming is your passion.
A degree in game design may be an intriguing career route for you to consider if you have a passion for video games and an interest in how they work.
By enabling you to view the game design from the user's or player's perspective, a passion for video games may make your career and regular work more fascinating and impactful.
Common Career Options
A bachelor's degree in game design's broad, interdisciplinary nature may enable you to select from various job choices.[2] Art directors, software developers, video game designers, multimedia artists, animators, and computer programmers are a few examples of frequent professional paths.
1. Art Director
An art director oversees the creative direction of a project by managing finances, schedules, and resources. Managing human resources, such as animators, programmers, and game designers who work on various facets of game development may fall under the purview of an art director. Before making the finished game design available to the general public, the art director may undertake the last evaluation and approval.
2. Software Developer
As a software engineer, you will plan and carry out game maintenance and upgrades while ensuring that updates and modifications don't negatively affect the game's operation or the user experience. Other duties could include completing user testing and game troubleshooting and taking part in technical design planning during the game development process.
3. Video Game Designer
You can participate in creating detailed video game structures as a video game designer. The development of stories, the definition of game levels, the construction of character biographies, and the production of character traits are examples. While collaborating on tasks with other team members, you can manage a project. These duties include planning narratives, creating scripts, and creating scenarios that players would encounter while playing the game.
4. Multimedia Artist and Animator
As a multimedia artist and animator for the game design industry, you might create images and animations using computer software and hardware. Video game designers may develop or design visual effects based on the artistic direction. Other team members may include art directors, video game designers, and most artists and animators. The goal is to ensure that graphic elements are consistent with the aesthetic vision.
5. Computer Programmer
Computer programmers are responsible for writing and testing video game code. You may also take designs completed by software developers and bring them to life through written code that computers can read and interpret. Additional tasks may include program testing, which ensures video games operate as expected and provide a high-quality user experience.
What Degree Do You Need To Be A Game Designer?
Bachelor's degrees in the humanities, fine arts, and sciences are available for those interested in video game design. You might pursue a game design degree based on the arts, such as a Bachelor of Arts in Interactive Media.[3] That's if you are more interested in the artistry and creativity of video game design.
You might do well in a degree program combining science and computers if you are fascinated by video game design's technical and computer-based aspects. A bachelor's degree in computer science, game design, or interactive simulations may fit this description.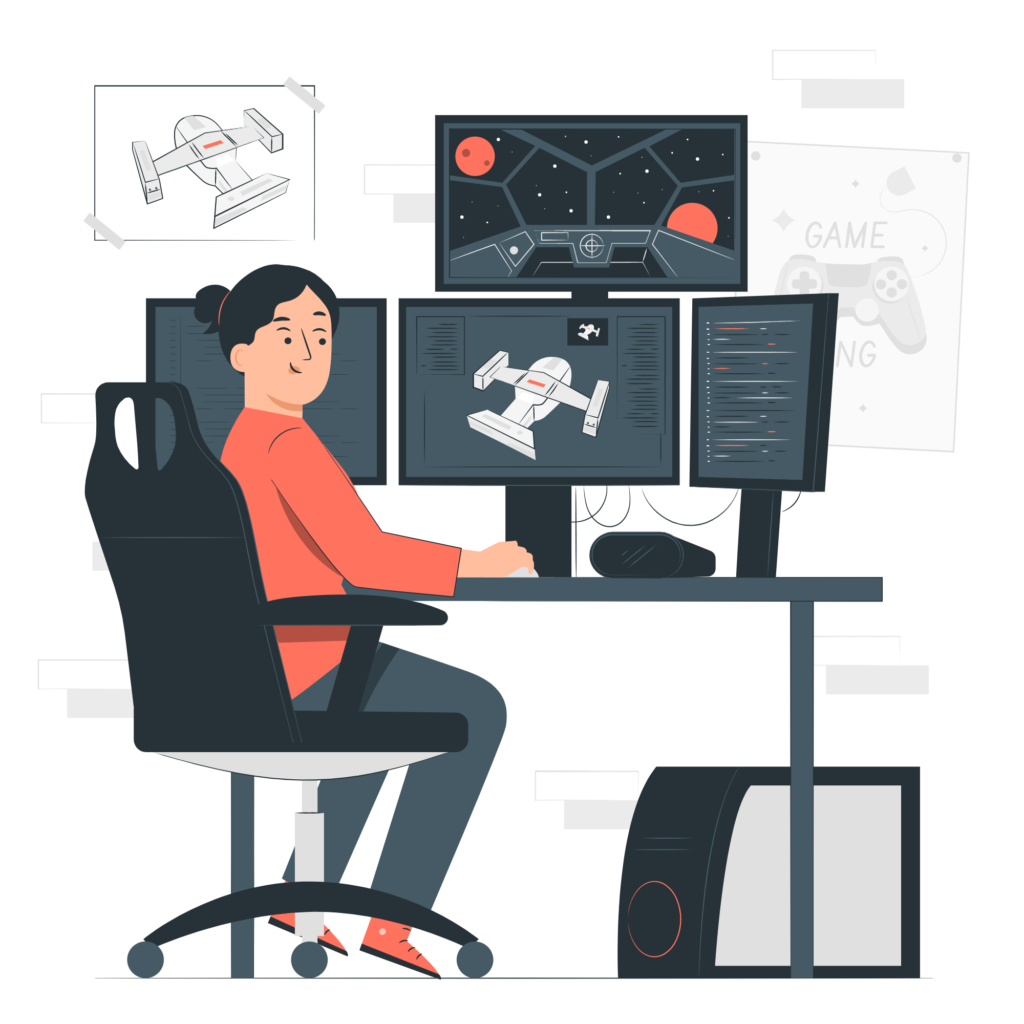 What Can You Do with a Game Design Degree?
You might be qualified for a satisfying career in artistic and creative positions, technical positions, or a combination of both with a bachelor's degree in video game design. Art director, multimedia artist or animator, or graphic designer are some examples of job titles for those who choose careers in design. Programmers for video games, systems designers, and software engineers are examples of technical positions.
You might be able to mix your aesthetic and technological skills with some employers and jobs, such as video game designer. In this profession, you might need to use your skills in graphic design, computer animation, and game development.
Job Prospects for Game Developers
The scope of the gaming industry and the variety of job opportunities often go unnoticed by aspiring game developers. In actuality, the worldwide gaming business outpaces the global cinema industry in terms of revenue. Yet still, the gaming sector is expanding quickly. According to a survey published in May 2022 by the industry research and analytics firm Newzoo, gaming companies will generate more than $200 billion in revenue globally in 2022. In contrast, according to the Motion Picture Association, the global film industry's income for the first time reached $100 billion in 2019.
According to the U.S., the median yearly compensation for American video game designers in 2021 was $79,890. According to the Bureau of Labor Statistics, employment in the sector will increase by 10% to 15% from 2020 to 2030.[4]
Getting Your Game Design Degree Online
You might want to enroll in a video game design school to get your game designer degree if you are interested in video games, including their aesthetic components, narrative structures, and technical architecture. You might have the chance to work on projects that combine artistic talent and technical computer and software-based skills if you have a bachelor's degree in game design.
Now would be a wise time to consider acquiring a degree in video game design because of the high-income potential, above-average job growth, and variety of career options accessible.


Sponsored Listings

Reference
[1] Specialties in the Field of Game Design? "Components of Video Game Design" The Art Career Project, 2019
[2] Who Else Hires Someone With A Game Design Degree? "Advancing Your Career Through A Game Design Degree" Worldwidelearn, 2021
[3] Bachelor's in game design? "Your Guide to Game Design Degrees" Coursera, 2022
[4] Game Design "15 College Majors That Pretty Much Guarantee a High-Paying Job" Money Talks News, 2022