Is Graphic Design a Good Career in 2023?
---
Are you a creative thinker? Do you enjoy art, technology, and communication? If you answered 'Yes' to these questions, then you might want to consider graphic design as a career choice.
Sponsored Listings
Now you may ask yourself, 'is graphic design a good career?' Well, there are many job opportunities for graphic designers because there is a need for graphic design across many industries. As technology advances, graphic design will be even more valuable, especially in industrial design, interior design, gaming, animation, 3D printing, web design, Virtual Reality (VR), Augmented Reality (AR), product development, and social media. While we won't go into the details about each listed field, we will provide an overview of graphic designers' role and relevance in specialized design services industry. We will also provide the current wage prospects to show which industry values graphic design. So before you decide to pursue graphic design as a career path, here's everything you need to know.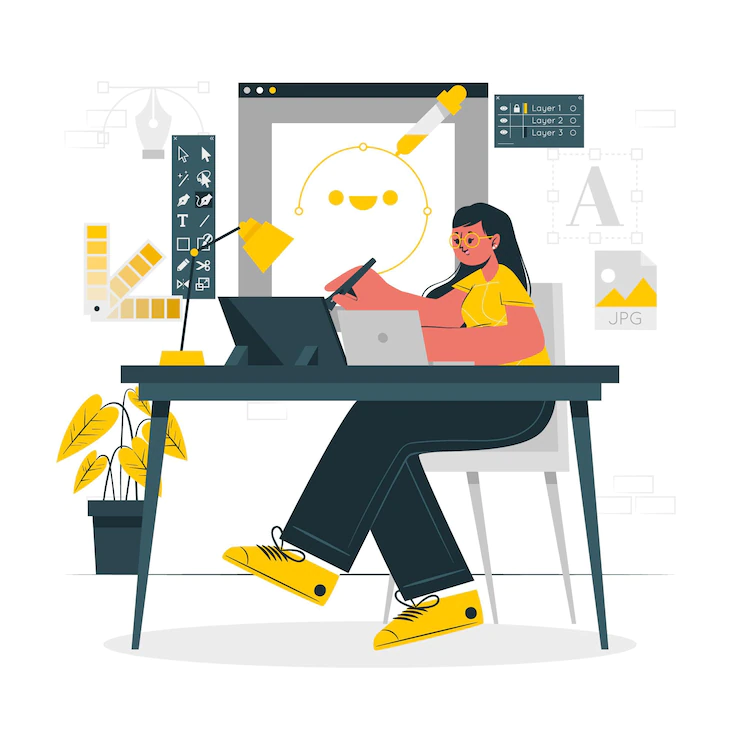 Is Graphic Design a Good Career: Industry Shift
Employment in traditional industries where graphic design thrived like newspapers, publishing companies, and magazines is declining. The market is shifting and studies are recording this trend. According to the U.S. Bureau of Labor Statistics, this decline is observable primarily in the publishing industry. The report also reveals slow growth for graphic design employment—3 percent, which is slower than the average—in the coming decade (from 2021 to 2031).
However, despite the limited growth within some industries, the report also states that about 24,800 job openings are projected for graphic designers within the same decade. This means that other industries may open up job opportunities, especially the specialized design industry and companies looking into increasing their digital presence. Based on The Business Research Company's "Specialized Design Services Global Market Report 2022," the report estimates 12% growth rate for specialized design services market. This growth is partly due to rising technologies that make designing efficient and better in quality. In addition to this growth, market research company IBISWorld reports that the demand for online design is projected to grow.
Graphic Design in Specialized Design
Even though traditional industries for graphic design are diminishing, there is a new promising avenue—Specialized design. Graphic design is still a promising career even in an increasingly digitized world. With the rise in VR/AR technology, graphic designers can utilize those technologies to provide high-quality, customized design to customers. The added benefit of using these technologies is being able to offer low-cost design plans in a short time span. With the merge of graphic design and tech, there's more opportunity to provide values to companies like Google and Facebook.
Another opportunity is that graphic designers can translate their skills into web design, UI/UX, animation, project management, and more. Graphic designers can apply their skills in specialized design services to create visually stunning user experiences—through realistic 3D graphics (VR/AR), or artistic graphics like those you may have seen in video games. Using computer software, graphic designers can also improve the quality of user experience on websites, for example. Having a website that is easy to navigate and intuitive is all part of having a skilled designer.
The role of a graphic designer is versatile with these rising technologies. As a graphic designer, you are expected to leave a visual impact on the user in order to retain them. These days it's all about the user, so your role may be crucial in ensuring customer satisfaction. With the possibilities in specialized design services, graphic designers may also have the option for remote. As previously mentioned, demand for online design is projected to grow. So, as a graphic designer, not only you may no longer be bound to go to the office, but you are also no longer bound to traditional industries. What's more, is that you now have the opportunity to expand your skillset with the aforementioned technologies!
Wage Prospects
A graphic designer career can pay well. Wages differ depending on your experience level and the industry in which you work. It's always wise to know how the market values the career in which you are interested, so you preparet. Regarding graphic design, the figures are as follows for last year: In May 2021, the median annual wage for graphic designers was $50,710. However, that number doesn't mean that's how much you'll earn because that's not the overall wage range. The overall wage ranges from $31,310 to more than $98,260.

Your wages as a graphic designer also depends on the field you choose to work. According to the U.S. Bureau of Labor Statistics, in May 2021, the median annual wage for graphic designers in the "specialized design services" industry was $58,610. Within this report, the specialized design services industry is—so far—the highest-paying field for graphic designers. On the other hand, the lowest-paying industry is the "printing and related support activities" at $39,090.

Now that you know more about the career and wage prospects, you might want to consider pursuing a degree in graphic design. Now, if you're still a student considering studying graphic design, we suggest you check degree in graphic design to find more information on the best graphic design schools.
Career Prospects: Final Thoughts
Opportunities are everywhere if you know where to look. You can channel your creativity in almost any field as a graphic designer. With the advent of digital media and technology, you can apply your skills outside traditional industries. When becoming a graphic designer, take into consideration that traditional industries may no longer be a viable option. On the other hand, a new avenue has opened up for graphic designers. Use the technology—through enhanced computer software— at your disposal to challenge your skills by creating unique experiences for users.
Ultimately, a graphic design career path is versatile and full of possibilities.
Sponsored Listings
References:
[1] Graphic Design Occupational Outlook U.S. BUREAU OF LABOR STATISTICS
[2] Graphic Design Wages Occupational Outlook Handbook
[3] Is Graphic Design a Good Career in 2022 Brainstation 2022
[4] Graphic Design Industry Trends IBISworld 2022
[5] Specialized Design Services to Grow by 12 percent Newswires 2022