Emergency Room Vs Urgent Care: How To Choose The Best Option
---
Deciding between an emergency room vs an urgent care clinic can be difficult, especially if you are trying to decide which one is appropriate for your medical needs.
Once upon a time, there was a lady named Mary who, one morning, felt very ill upon waking. Her symptoms were a high temperature, persistent cough, and throbbing head pain.
Sponsored Listings
Mary needed to get to a doctor immediately, but she didn't know whom to see. She thought of heading to the emergency department but wasn't sure if her condition was terrible enough to merit it.
Mary decided to visit an urgent care facility after giving it considerable thought. A friend had recommended that she check out one of these clinics for any minor medical conditions that required prompt attention but weren't life-threatening enough to warrant a trip to the emergency hospital.
Mary was seen by a doctor shortly after she arrived at the urgent care center. The doctor evaluated Mary after she explained her symptoms to him. The doctor ran a battery of tests and diagnosed Mary with a severe case of the flu; he then gave her medication to alleviate her symptoms.
Mary was happy that the urgent care clinic she visited could help her immediately. She was relieved that she had gone to the appropriate spot for her medical requirements when she departed.
Conversely, Mary should have gone to the emergency department if she had been experiencing more severe symptoms like chest pain or difficulty breathing. The emergency room is staffed at all hours and ready to treat anyone needing immediate medical attention, including those with life-threatening conditions.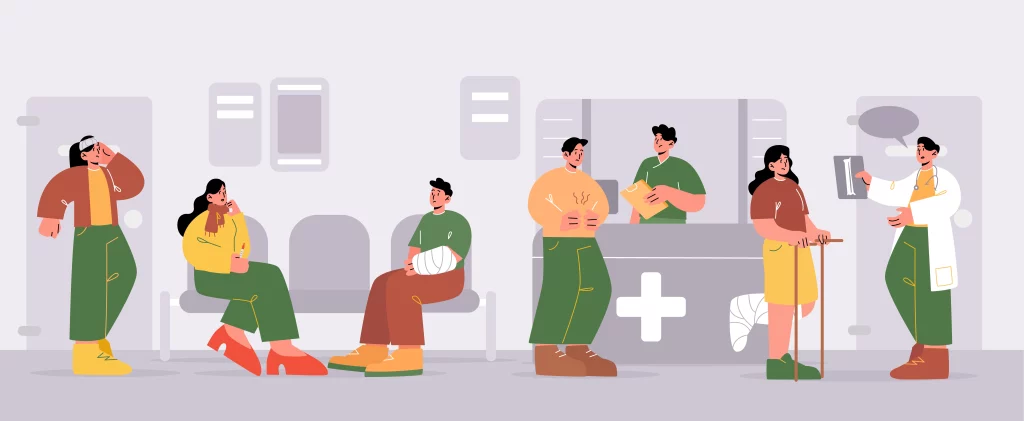 What Is An Emergency Room?
The purpose of an emergency room (ER) is to treat patients who have had a sudden medical emergency and need quick medical assistance. At all hours of the day and night, doctors in the emergency room can treat various life-threatening conditions[1]. When determining a patient's ranking, it is important to consider the severity of their condition. Heart attacks, strokes, and traumatic injuries are just some life-threatening situations treated in emergency rooms. They're vital for those with medical emergencies but not for those with less urgent needs.
What Is An Urgent Care Clinic?
The purpose of an urgent care clinic is to provide fast and convenient treatment for non-life-threatening injuries and illnesses. These clinics typically include doctors, PAs, and NPs on staff, and they are open late or on the weekend to better serve their patients. If you need medical attention immediately, but your symptoms aren't life-threatening, an urgent care facility may be the best choice. Minor injuries like cuts and sprains, upper respiratory tract infections, and the flu or fever are some of the most often treated conditions at urgent care clinics. Many procedures, from X-rays and laboratory tests to small operations, are often available at urgent care centers.
The Differences Between An Emergency Room And Urgent Care Clinic
There is a need to distinguish between emergency room vs urgent care.
Treatment Severity
Clinics offering urgent care treat non-life-threatening problems that require immediate attention, such as minor injuries and illnesses. At the same time, emergency rooms deal with life-threatening emergencies, including heart attacks, strokes, and trauma injuries.
Time Spent Waiting
Patients get treated following the severity of their conditions. Therefore ER wait times can be greater than usual[2]. Due to a lack of resources, urgent care centers often have shorter wait times than emergency rooms.
Cost
It's not a good idea to go to the emergency room if you can avoid it. This is because emergency rooms have the resources to treat more severe injuries and illnesses, including better equipment and trained professionals.
Available Services
While emergency rooms can do more complex procedures like surgery and advanced diagnostic tests, urgent care centers typically only give routine exams and lab work.
Working Times
While emergency rooms are always available to treat patients, urgent care centers often don't operate around the clock[3].
Conditions That Can Be Treated In An Emergency Room (ER)
Life-threatening emergencies, such as heart attacks, strokes, and trauma injuries
Serious injuries, such as broken bones or severe burns
Severe pain, such as chest pain or abdominal pain
Difficulty breathing
Loss of consciousness
Severe bleeding
Seizures
Conditions That Can Be Treated In An Urgent Care Clinic
Minor injuries, such as cuts, sprains, and bruises
Minor illnesses, such as the flu, colds, and fever
Upper respiratory infections, such as sinus infections and bronchitis
Allergies
Mild asthma
Minor burns
Insect bites
Rashes and skin infections
This is by no means an all-inclusive list, and the level of care you require may vary depending on the severity of your ailment. Call your primary care physician or a healthcare helpline in your area if you need advice on where to get medical attention.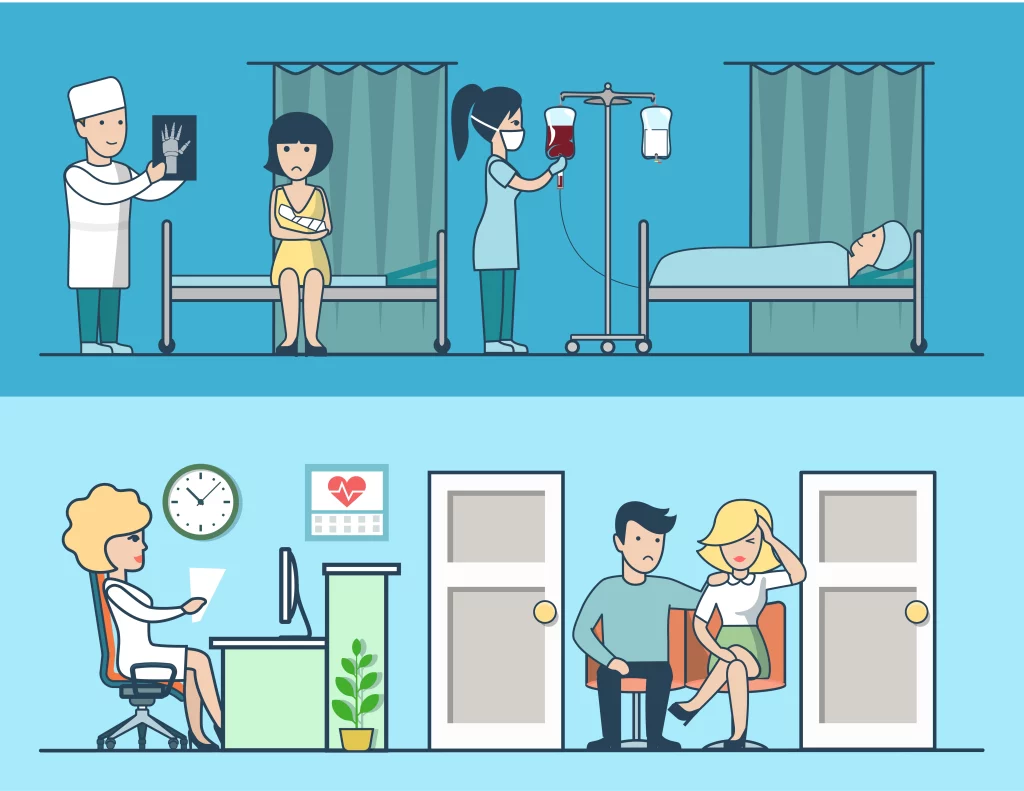 How To Prepare For A Medical Visit
When preparing for an appointment with a doctor, there are a few things that you can do:
Remember To Document Your Signs And Symptoms
Make a record of all the symptoms you are experiencing, including when they started, how often they occur, and any other data that may be helpful.
Get Your Medication History Down On Paper
Please bring a complete list of your current medications, including the dosage and how often you take each one.
Document Your Health Background In Detail
You should write down your medical history, including any illnesses, surgeries, and allergies you may have.
Please Provide All Necessary Paperwork
Please bring any pertinent medical paperwork or test results to your appointment.
Write Down Your Questions
Make sure you have all of your questions ready for the doctor. Doing so can help you get the most out of your appointment and get your questions answered.
Consider Bringing A Friend Or Family Member
Having someone with whom you can take notes, ask questions, or provide support can be beneficial.
Arrive On Time
Don't waste time waiting to be seen by ensuring you get to your appointment on time.
These guidelines can help you get the most out of your doctor's appointment and reduce any unnecessary stress you may be feeling.
Conclusion
In conclusion, emergency room vs urgent care are crucial resources for medical care. Emergency rooms (ERs) are ready to treat patients at any time of the day or night, 365 days a year, and are staffed to deal with the most severe medical situations. There are times when you need medical assistance right away, but it's not life-threatening enough to justify a trip to the emergency room. If you want to get the correct treatment for your illness, it's crucial that you go to the right hospital. ERs can manage more severe problems and often have more advanced technology and expert staff, while urgent care clinics often offer more basic services and have shorter wait times. Both types of facilities are essential to the functioning of the healthcare system and can provide you with the care you need on time and with the highest quality possible.
Sponsored Listings
Reference
[1] Emergency Departments "Emergency Treatment Process" Netcare LTD, 2022
[2] Waiting In The Emergency Room "In Case Of An Emergency: ER Wait Times Explained And More" Thomas Jefferson University Hospitals, 2022
[3] Know The Best Time To Go "Know Before You Go: Getting The Most Out Of Urgent Care" Healthline, 2022