Install dark wood floors to create a dramatic effect in your home! Three exquisite dark hardwood floors to add richness to your home.
Dark hardwood floors are trendy and the go-to choice for people looking to bring a sense of sophistication and elegance combined with a modern twist to their interior decor. A dark wood floor is a versatile option because it blends with just about any color. Having dark wood floors—especially ones with reds or even red undertones—makes it easier for you to decorate your home than having mid or lighter floors. What's also great about them is that dark brown never seems to go out of fashion. So, you don't have to worry about them going out of style. Of course, the way you also design your interior impacts the overall look. As a general rule of thumb, dark brown blends exceptionally well with bright, light walls, white kitchen cabinets, and furnishing to maximize that sophisticated look.
Sponsored Listings

So, if you're thinking about getting your floors done, but haven't quite decided on the color, check out the list of the top three dark wood floors for your stylish home.
Tips for Choosing the Right Hard Wood Floor
Choosing the right hardwood floor for you consists of five elements. Check out the elements you need to consider to transform your home into the epitome of elegance and sophistication.
Plank Width
If you want to make your room seem larger, opt for the wider planks. If you have a small living room with dark wood floors, the wider planks will give off the impression that the room is larger than it already is due to visual perception.
When it comes to solid hardwood, many people get 3 ¼ inches plank width. But, 5 inches wide planks are the most people among most people because they look elegant and modern. They're wonderful for middle or larger spaces, but not ideal for small rooms because they may take up visual space and look a lot.
When it comes to pricing, 5-inch planks cost more.
Solid vs Engineered Hardwood
Deciding on either is a matter of preference and pragmatism. If you want to sand your flooring, opt for solid hardwood. Bear in mind that installation for solid hardwood that is 5 inches or wider requires you to nail and glue the planks. The reason being is that solid hardwood expands and contracts more.
As for engineered hardwood, it usually comes in wider widths and is more affordable for its size when compared to solid hardwood. It works great for warmer and humid environments because it won't expand and contract as much as solid wood. It's also ideal for homes built on a concrete slab.
Glossiness
Is also a matter of preference. For most people, they may choose either satin (aka low sheen) or matte (no sheen) finish because these look stylish and classy, and are easier to maintain (dirt doesn't show easily). You should know that the glossier the wood is the more dated it appears, making it difficult to maintain; i.e. dirt, scratches, and dents show easily. Satin and matte finishes are the practical choice and they look better overall.
Species of Wood
Choosing the wood specie depends mostly on your budget. If you're starting from scratch, choose whichever specie of wood that is within your budget. But, if you already have some wood-themed decorations, it's better that you choose something that matches the decor to maintain uniformity.
Here in the US, the most common species of wood is red oak, which is why it tends to be more affordable. A feature—or a bug for some people—of red oak is that it has strong graining, which helps camouflage scratches and dirt better. It's an excellent choice if you have children and/or pets. But, if you don't like how graning looks, choose the darker colors so you don't see less graining.
If you don't like the look of red oak, you can get white oak, even maple, and cherry. When it comes to white oak, although it's similar to red oak, it's less grainy and slightly darker. White oak is also more resilient to water and harder, so it's perfect for kitchens and entryways/hallways.
The last two—maples and cherry—are less common in the US, so they're more expensive. While they have the least graining, be careful not to get a drop of stain on them because they're difficult to clean. Even when you're able to remove the stain, the wood comes out looking a bit blotchy.
Difficulties of Dark Hardwood
While looking stylish and elegant, dark hardwood is difficult to clean and maintain because it can show every little scratch, smudge, and speck of dust. While scratches or smudges appear less in grainy dark hardwood, they are still far more noticeable against a dark background than on a light-colored background.
Three exquisite Dark Wood Floors to Embellish Your Home
You will find below the top trendy picks based on the choices of interior designers. If you love to have colorful or white-toned interiors, consider dark wood floors to add contrast. Some people are daring and double up on the dark. It's a bold move but you might be surprised at how luxurious it looks if done right.
Oak Hardwood Floor
Is the most popular and versatile choice when it comes to hardwood flooring mostly due to its abundance, sturdiness, and affordability. Whether red, dark brown, or white oak, this is a durable wood specie that has naturally strong grain patterns, which can mask scratches, dents, nicks, and other small flooring mishaps. Due to its durability and varying color patterns, oak is ideal for the living room and dining room, but you still need to be careful as it can get stained easily. So, it's not ideal for the kitchen and the bathroom.
Maple Hardwood Floor
Similar to oak, maple is sturdy, reliable, and long-lasting. It's stronger than oak but is slightly less expensive. It holds up well to dents and gouges, but not to scratches. Maple is lighter-colored and less grainy, which makes scratches easily visible. Maple gives off a warm and inviting look, but since it's prone to getting scratched, it's suitable for a house with children and pets.
Brazilian Cherry Hardwood Floor
Popular for adding warmth, elegance, and everlasting style to a space, cherry hardwood floor is making a comeback!
Even though it's nowhere near as popular and common as oak, it is appreciated by homeowners who want a luxurious look. Brazilian cherry in particular is one of the hardest hardwoods, making it incredibly durable and resistant to scratches, dents, and gouges. Its hardness makes it strong enough to hold up to use in the most high-traffic areas of the home. You can use it in a dining room and living without concern.
Brazilian cherry hardwood has a dark finish, so it's ideal for making large rooms feel cozy, but can make a smaller space look even smaller.
One drawback is that the Brazilian cherry is absorbent, which means it can be damaged by water. So keep it away from the kitchen and the bathroom where water can splash or leak into the flooring.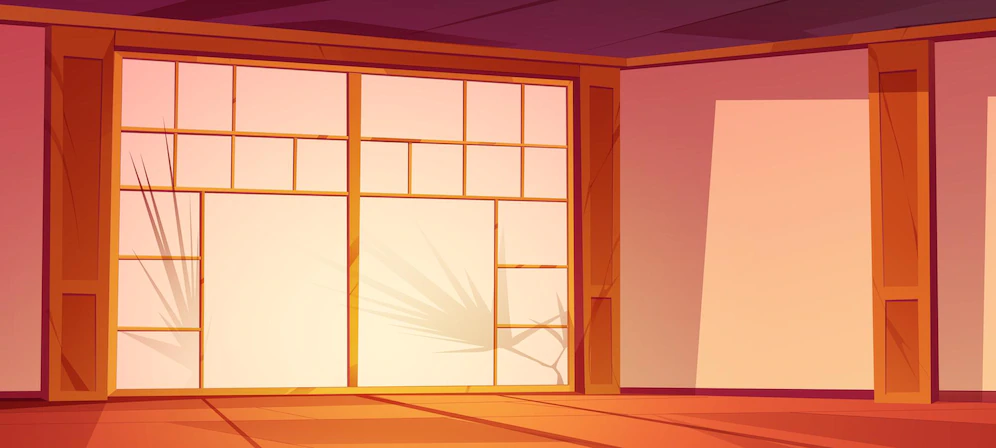 Dark Wood Floor Living Room
Enhance the classiness of your living room. If you want to have a modern living room with dark wood floors, any of the listed hardwoods are great options. But, due to its stunning minimalist style, durability, timelessness, and cost-effectiveness, oak is the perfect choice for living rooms.

Since the living room is the designated area for family members, friends, and guests, it's far more practical to go with a mid-colored hardwood floor that's grainy The darker tones show dust easily, so keep it in the mid-color range.

Since you'll be having people mulling around, it's more likely that you'll get scratches and/or stains on your floor, so choose a mid-color, grainy option. You can also cover parts of your living room with cold or warm-colored rugs. While it may seem counterintuitive to cover your beautiful floor with rugs, it's a good way to protect the floor.
Dark Wood Floor Kitchen
Kitchen with dark wood floors is stunning. Since you're in close proximity to food, water, and other liquids, you should opt for white oak. It is excellent for the kitchen because it is water-resistant. So much so, that white oak is used for front doors and in boat construction. Obviously, you need to clean up the spills immediately since it's not 100% waterproof, but know that it provides ample protection.
White oak also has a decent hardness rating making it resilient to dents and gouges. Even when your flooring gets scratched, white oak can help hide them better than red oak because it's naturally grainy.
Embellish Your Home with Dark Wood Floor
Dark hardwood floors are a great way to bring life and style to your home. So use these tips and knowledge to transform your home into a beautiful haven. If you are interested in constructing them by yourself, check out our article on deck building jobs or entry level construction jobs.
Sponsored Listings
References
[1] Dark Wooden Floors. "Dark wooden floors." Junckers.
[2] Transform Your home with These Wooden Floors. "11 Exquisite Dark Hardwood Floors to Transform Your Home." TheFlooringGirl.
[3] Dark Hardwood Floors. "Dark Hardwood Floors – Can You Make Them Work?" Home Flooring Pros, December, 2022.
[4] Home Decor Living Rooms. "15 Great Living Rooms With Dark Wood Floor." Home Decor Bliss, May, 2022.
[5] Hardwood Floors. "40 Dark Hardwood Floors That Bring Life To All Kinds Of Rooms." Trendir.
[6] Darkwood Floor Tips. "Dark Wood Floors Tips And Ideas You Should Try." Impressive Interior Design.
[7] Riveting Living Rooms with Wooden Floors. "21 Riveting Living Rooms With Dark Wood Floors." Home Stratosphere, November, 2022.