Window Replacement Cost In 2023
---
Thinking about window replacement cost? It can be time for new windows if a home's windows stop functioning correctly or if they start letting cold air in. The average cost of replacing a window ranges from $180 to $2,100 per window, depending on the type of glass used and the material used for the window frame, among other things. The price of labor, which is added to the entire cost of replacing windows, can range from $100 to $300 per window. The most frequent variables that impact window replacements cost are the window type, frame material, size, and energy efficiency.
Sponsored Listings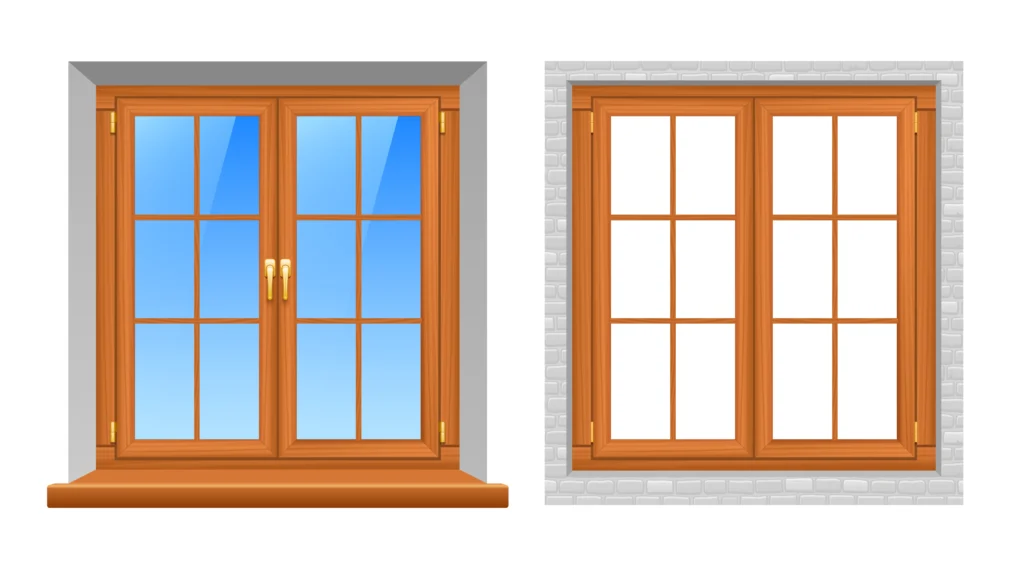 Before Cost Of Window Replacements: What To Look For
The following symptoms will help you determine whether you need new windows.
Condensation
Condensation is a symptom of deteriorating windows. Typically, moisture seeps into your windows due to a failed window seal. Reduce your energy usage by using energy-efficient windows to prevent leaks or drafts.
Drafts And Leaks
Look for leaks and drafts around the window's frame and sash. Try wrapping your fingers around the windowpane and frame to feel the temperature outside. If you can feel the heat or cold, your windows are not insulating your home properly.[1]
Open And Close Issues
Your windows may not open or close properly because of a warped or damaged frame, improper installation, or rotting frames. Check if your windows need to be repaired or if they need to be replaced entirely.
Visible Damage
More obvious signs that your windows are damaged include visible damage such as cracks, fractures, or bends. Visible rot, mold, or mildew can cause health problems down the road and are signs of leaks or water damage. Replacement of these windows is necessary for the health and safety of your family.
Window Replacement Cost Calculator
The window type, the material used for the window frame, and labor expenses are the key variables in determining prices. Low-E glass vinyl windows typically cost $244 to $373 on average, with labor costs ranging from $159 to $258 for installation. There are more than ten types of windows, ranging from fixed, non-opening models to more effective sliding and double-hung models.
The Average Cost Of A Replacement Window By Window Frame Material
The resilience, upkeep requirements, and customization possibilities of window frames differ. While wood windows give the most customization options, aluminum and vinyl frames are the most affordable.
Aluminum Frames
The least expensive windows are made of aluminum but are less energy-efficient. They require minimum maintenance while offering long-lasting endurance. If they are painted, they do need care. During high heat or cold periods, aluminum windows also swell and shrink.[2] Each one costs between $80 and $500.
Vinyl Frames
The most excellent windows for durability and energy efficiency are those made of vinyl. Vinyl has been weather-resistant for many years and requires little upkeep. It also provides some customization, albeit less so than other window types. Some vinyl windows feature exteriors that resemble wood, giving them the classic appearance of wood windows without the additional cost. Each vinyl window costs between $150 and $600.
Wooden Frames
Wooden windows give any house a classic, timeless look. They have several customizing possibilities, including paints and stains, and come in different types of wood. They do, however, need the most care and maintenance. Each will cost between $250 and $800.
Composite Frames
Composite windows are created by mixing wood with aluminum or polyvinyl chloride (PVC) polymers. They have an attractive wood design and are more durable than vinyl or wood windows while still being just as energy-efficient. The typical price of a composite window ranges from $400 to $1,300.
Fiberglass Frames
Although fiberglass windows aren't common or easily accessible, they are a reliable option that requires little upkeep. These windows offer reasonable insulation from outside temperatures since they are weather-resistant. They aren't the most economical at $700 to $1,400 on average.
The Average Cost Of A Replacement Window Cost By Type Of Windows
Any room's aesthetics can be changed by the window styles used. While more ornamental forms provide flair and attractiveness, more straightforward options like casements and single-hung windows are good basic choices.
Single-Hung Windows
Single-hung windows have an upper sash that is always sealed and opens by the bottom sash. They add protection for rooms on the ground floor due to their limited functioning. The cost of a single-hung window ranges from $150 to $400.
Double-Hung Windows
Most people are familiar with the double-hung window. At the top and bottom, moveable panels, known as sashes, allow them to open. This makes cleaning simple and allows for maximum circulation. On high-floor levels, double-hung windows perform well. Adding double-hung windows to a home can cost between $200 and $600.
Storm Windows
Impact-resistant glass is used in these windows to protect coastal properties from hurricanes and severe downpours. High-quality storm window installation can guard against storm damage by strong winds, heavy rain, and flying debris. Each of these windows costs between $150 and $500.
Jalousie Windows
Jalousie windows have many metal or glass slat columns but are constructed similarly to blinds. These windows, frequently found in warm or tropical locations, may be opened to varying levels to let cool breezes into the house. The price of a jalousie window ranges from $175 to $475.
Transom Windows
Transom windows serve as a decorative complement to other windows or doors. They can be found in half circles and rectangles, among different shapes. Budget between $200 and $500 per window for this window type.
Hopper Windows
Since hopper windows may be only fully open at the top or bottom, the airflow is restricted. They have a crank for operation and perform well in small places. Each hopper window costs between $200 and $700.
Circle Windows
The decorative elements known as circle windows come in half-circular, full-circle, oval, or elliptical shapes. Although they cannot be opened, these windows can provide a fantastic focal point. Each circle window costs $250 to $800.
Sliding Glass Windows
They are sliding glass windows if they can be opened from either the left or right and run on a track. They are ideal for small or confined spaces. A single or two movable sashes exist. A sliding glass window can range from $250 to $1,800.
Awning Windows
Windows with awnings can swing outward to form an awning. Due to their water-resistant construction, they perform well in rainy environments and provide good air circulation while keeping rainfall from entering your home. Each window with an awning costs $300 to $900.
Arched Windows
These windows feature rounded tops for aesthetic appeal. Arched windows can be put on top of an existing window or used entirely in place of the original window. Each one costs between $350 and $850.
Picture Windows
Picture windows provide expansive views and much light. They can be built for floor-to-ceiling installations and customized to fit any home. The average price of a picture window is between $350 and $850, while personalized ones can cost well over $1,200 per window.
Casement Windows
With the turn of a crank, casement windows open to the right or left. They have a sturdy glass with little obstacles, which lets more light into a space. A casement window can cost between $350 and $900.
Glass Block Windows
Glass block windows provide maximum seclusion while adding a decorative flair. These windows are frequently used as accent elements and in bathrooms. They have a variety of patterns that let light in while maintaining your privacy. Depending on size and style, prices range from $450 to $900.
Skylight Windows
Rooms with little walls benefit significantly from the abundant light that skylight windows provide. These overhead windows can have operable apertures or not. Skylight windows cost between $850 to $2,500 more since they require much labor and are custom-made.
Bay And Bow Windows
These striking windows provide beautiful external views. They stick out from your house, providing only a tiny space for a shelf or a place to sit. Bow windows are straight; bay windows are curved and more prominent. Bow windows have an external shape that is more angular. These windows cost more because of their distinctive appearance and need a trained installer. Bay and bow windows range in price from $900 to $2,200.
Garden Windows
With garden windows, gardening enthusiasts can create a miniature greenhouse inside their homes. These windows include an exposed shelf for plants and herbs. It has clear glass, which allows sunlight pass through them. Each garden window costs between $1,000 and $4,000.
Egress Windows
Basement and bedroom egress windows are commonly used for emergency escapes. Some municipal governments require basement bedrooms to have egress windows. These windows cost more because they are customized ones. Egress windows range in price from $1,500 to $5,500.
The Average Cost Of A Replacement Window Cost By Number Of Window Panes
Your home is better sheltered from outside noise and temperatures by the more window panes you have. A more significant expenditure is necessary for multipane windows.
Despite providing the least amount of insulation from outside temperatures or noises, single-pane windows are the least expensive, ranging from $150 to $400 per window. Although double-pane windows cost between $450 and $1,000 per window, they offer excellent protection from the elements. Triple-pane glass provides the best value for your home and the maximum level of environmental protection. Triple-pane windows should cost between $500 and $2,000 on average.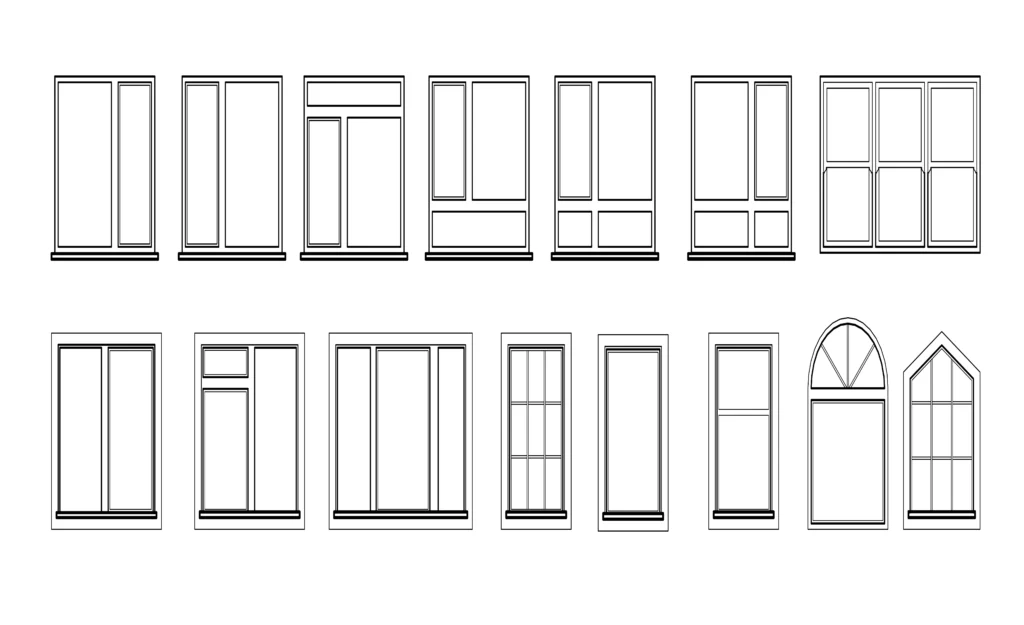 Factors Affecting The Price Of Window Replacement
Your window replacement expenses may increase due to some circumstances. We'll go over the important ones below.
Energy-Saving Improvements
An effective way to increase your home's energy efficiency is by installing replacement windows. According to the U.S. Department of Energy, most homes lose around 30% of their heat via their windows. Although more expensive, energy-efficient windows pay for themselves over time by producing energy savings. The U.S. Environmental Protection Agency (EPA) has approved Energy Star-certified windows for their energy efficiency.
Installing double-pane windows with low-emissivity (Low-E) insulating glass and argon gas between the panes will result in the most incredible energy savings. Low-E glass uses a shielding layer to shield your property from the effects of outside temperatures. Within the windows, argon gas provides extra weather protection. Additionally, window manufacturers offer specialist glass options for various climates, some of which may have UV-blocking coatings.
Full-Frame Window Vs. Retrofit Replacement Cost
Retrofit windows can save you up to 15% off replacement costs. These installs replace the window sash while retaining your current window frame and trim. Replacement of the window will require a similar design or form.
Consider full-frame replacements if your window frame and trim are too damaged, have an odd form, or you desire a different window style. The lack of standard window sizes in older homes could also be a problem. Window professionals will replace the entire frame, trim, and sash for this installation. Full-frame replacements require additional labor and raise your costs overall.
Labor Charges
The number of windows in your project, the difficulty of your installation, and the location of your windows all impact labor expenses. Costs for standard-size windows range from $100 to $400. Your window installer may hire more staff if your replacement project is big in order to do it sooner.
Skylights, bay, and bow windows, as well as other labor-intensive additions, raise your overall cost. You will also have to pay to replace worn-out or crooked window frames with new frames or trim.
Glass Brands
Keep in mind that the greatest window brands frequently cost more money. High-end brands often have the broadest range of fashion choices and personalization possibilities. A less expensive brand will cost you less, but it might not have the ideal style for your house. Look for window brands that have a choice while remaining within your price range.
Window Placement
In numerous ways, the placement of your windows might affect the cost of your project. For instance, replacing windows on higher floors requires specialized equipment and more personnel, which drives up labor expenses. Your total will go up if multiple windows on higher stories exist, and the installation process will take longer.
Installation costs for basements can range from $250 to $700, although they go up if egress windows are added. Since standard windows are frequently used in the bedroom, bathroom, or entryway, window replacements in these spaces are pretty inexpensive. Installations in the living room, kitchen, or hallway, where more cosmetic enhancements are typically made, will increase your expenditures.
DIY Vs. Professional Window Replacement
The best replacement window choice is to use a professional window installation company. However, even if highly competent DIY enthusiasts want to take on the project, an experienced business gives assured outcomes. Professional installations also come with craftsmanship guarantees. This extra security is beneficial if you run into any problems. Make sure to review all the fine print in your warranty agreements.
A specific network of installation experts who are licensed to install their products is available from many window manufacturers. To locate the best installation, we advise beginning there. Additionally, you can engage with businesses that are experts in replacement windows.
Alternatively, you can ask your friends or neighbors for recommendations for local window installers. Online reviews help you learn more about how homeowners feel about various companies.
How To Save Money When Replacing Windows
A considerable amount may be needed for window replacement. Here are some suggestions for cost-cutting.
Purchase Inexpensive Windows
Sticking with inexpensive replacement windows is one of the best methods to save money on a replacement, especially for large-scale projects.[3] Simple designs and cheap window materials might not give your home the curb appeal you want. However, they'll save you money in the long run and increase energy efficiency.
Obtain Several Quotes
We advise requesting free quotations from several businesses to compare which offers the most competitive prices and options for your requirements. You can bargain with your top company for a lower price if you have these quotations.
Shop In The Off-Season
Spring and fall are the busiest seasons for window companies. Take advantage of this by window shopping during the off-season. During this time, you can get exclusive discounts. Remember that carrying out a replacement project in the winter can subject your home to chilly weather.
Increase Your Window Count
Many window manufacturers provide higher discounts for large orders. To reduce the price per window in your project, think about placing more replacement orders. You might spend more on the project overall, but you'll receive more for your money.
Utilize Regional Incentives And Rebates
Some window installation businesses provide their products with limited-time discounts and rebates. Check to see if your state or local city government is offering any incentives for energy efficiency. For your state's most recent list of energy-efficiency incentives, consult the Database of State Incentives for Renewables and Efficiency (DSIRE).
Conclusion
When you know your window replacement cost, you may upgrade your windows on a budget with the proper planning and installer. To discover the most competitive prices, contact at least three businesses. Compare the prices of their window installation services, warranty options, and product offerings. Find the top window installers in your area by using the tool below. Window replacement expenses can be reasonable if you plan and prepare carefully. Given the numerous variables that might affect your window replacements, consult with a professional in window installation to guarantee the project is completed to your satisfaction. To select the ideal windows for your house, speak with at least three installers and contrast the prices, offerings, and warranty options.
Sponsored Listings
Reference
[1] Identify The Problem "Here's How Poorly Insulated Windows Impact Your Home" Homespire Windows, Llc., 2020
[2] Aluminium Windows "Aluminium Windows: Its Types, Advantages & Disadvantages" Gharpedia, 2021
[3] Builder-Grade Windows "How To Save On Replacement Windows Tips That Shine" Billry, 2022