Project Manager Career Path In 2023
---
The professional project manager career path might frequently resemble glancing at a map without a compass. It may turn out you've been holding it upside down the entire time when you think you've got it figured out.
Sponsored Listings
The reason is that few businesses have established policies, procedures, and resources to help you transition (senior project manager, product owner, lead, etc.)
Everyone wants to advance, but no one is sure how to do it because many of us enter project management by accident (or need) rather than tackling it head-on.
More than ever, every industry needs highly qualified project managers. The global talent gap between the demand for project management professionals from companies and the supply of qualified candidates to fill such roles is expanding quickly. Increased demand for project talent in developing economies, higher turnover rates, and a growth in the number of occupations requiring project management skills are some of the causes of this gap.
Employers have to fill 2.2 million additional project management-related tasks yearly until 2027. Project-oriented employment has increased significantly in the U.S. healthcare sector, manufacturing and construction, information services and publishing, banking, and insurance sectors. There has never been a better moment to begin a career in project management if you are thinking about doing so.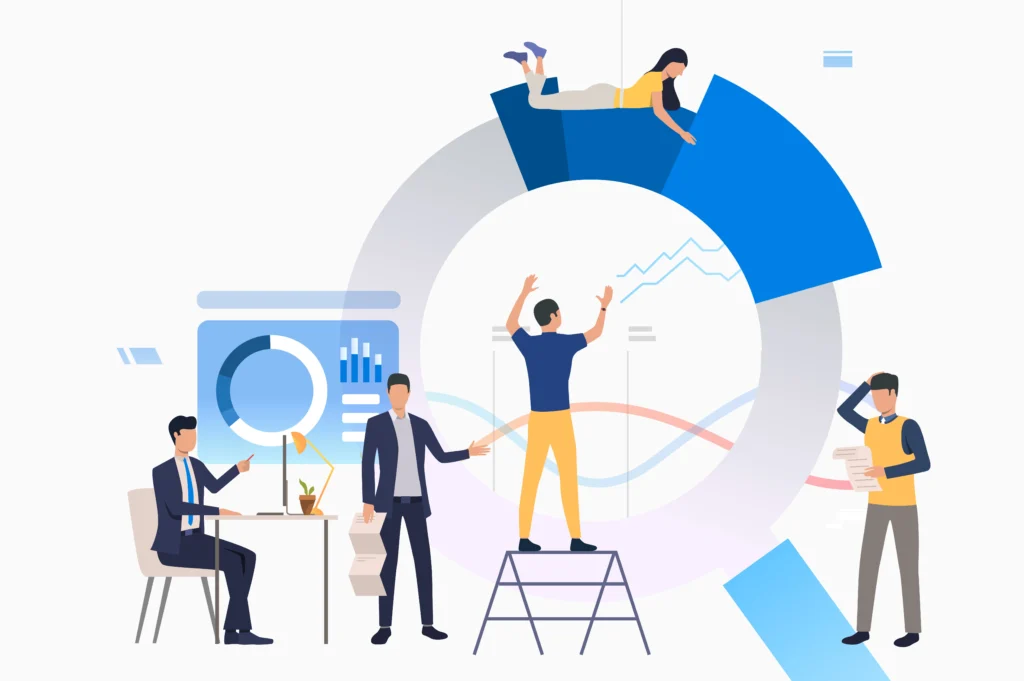 What Does a Project Manager Do?
It's crucial to comprehend what project managers do and what the job comprises before starting your career path as a project management specialist.
Project managers typically plan and supervise the completion of particular projects for an organization while ensuring completion on time, within budget, and within the intended scope[1]. These people work in numerous fields, including engineering, healthcare, and pharmaceutical science.
There are several jobs that all project managers may anticipate carrying out daily. However, the details of the duties of a project manager will vary based on the sector, size of the business, and type of project. These consist of the following:
establishing project plans to specify the project's parameters and set a budget
talking to the project team and important stakeholders
planning the project's tasks
organizing and fostering team members
delivering the project after completion
Project Management Job Outlook and Salary
Across all industries, the median yearly pay for project managers in the United States is $116,000, with the majority making between $93,000 and $140,000[2]. A project manager's income depends on diverse factors, including their years of experience, expertise, project team size, industry, and location.
Additionally, as project manager advances in their profession, their pay should also rise. Professionals can advance from project management to program management to portfolio management throughout their careers. However, job titles typically stay the same.
The following are the stages of a project management career that are most typical.
Project Coordinator
Creating and disseminating reports is the responsibility of a project coordinator, an entry-level administrative post. The management team's helper is the project coordinator.
Project Scheduler
This individual manages project schedules using software technologies. Schedules and other documentation must be updated and maintained. However, there is no team or people management required for this position.
Project Assistant
On massive projects, the project assistant may assist the project manager and take on tasks that the project manager cannot. For instance, the assistant project manager can participate in meetings and concentrate on particular smaller project components. The project manager and assistant have regular meetings to discuss progress and potential obstacles.
Project Manager
A project manager oversees every aspect of the project, including the budget, plans, timetables, and product demonstrations. The project manager can choose to operate alone, with an assistant, or with a management team to which he can allocate particular tasks. This person successfully manages the project.
Senior Project Manager
A senior project manager chooses which projects to prioritize while managing numerous projects concurrently. Project managers and assistants are probably part of a senior project manager's bigger management team.
Project Management Skills & Qualifications
In all industries, regardless of the profession, you're training for, project managers need some skills and credentials. Among the crucial skills for project management are the following:
Effective time management
Using communication skills
Effective leadership
Controlling risks
Planning and organizing tasks
Having technical skills
Aspiring project managers often acquire either an undergraduate degree in project management or, at the very least, a certificate in project management to develop these skills. Individuals will improve their leadership skills and acquire the technical understanding required to lead projects in these programs successfully.
There is no formal career path defined as a project manager or practitioner. Regardless of their college degree, professionals from practically all backgrounds can start a career in project management. It's common for people to come to project management from a completely unrelated field of work.
A Project Manager's Career Path
Established project managers frequently want to advance their careers or change careers. Project managers might choose from a variety of jobs. Chief operating officer (COO) and senior management positions with diverse titles based on the organization and the sector are among these positions.
Moving into the position of COO is a relatively easy move for an experienced project manager, more specifically, one with at least ten years of experience. The project manager is well-prepared to advance to this position due to the work they have already completed, which includes engaging and working with various levels and departments within the organization.
A Master of Business Administration, or MBA, would be a smart option for the manager to pursue if they don't already have one. Taking on the responsibilities of COO undoubtedly results in an increase in responsibility and a significant pay raise.
Types Of Project Managers By Industry
Numerous industries use project management. Nearly all industries offer career options for project management experts. As their careers develop, they might encounter job titles specific to particular industries.
Project managers may need to gain particular skills and experiences to advance within a firm. For instance, to successfully manage a software project, people working in the information technology industry will require a solid grasp of the software development process.
While personal and professional goals will determine the exact career route, project managers should concentrate on acquiring particular skills and credentials along the way.
The following are some of the industries' career paths for project managers:
Construction Project Manager Career Path
A construction project manager is knowledgeable about the industry, works closely with clients, acquires permits, organizes the construction schedule, and supervises contractors.
Experience and credentials include:
civil engineering bachelor's degree
having the ability to interpret a blueprint
expertise in budget management
knowing how to control risks
understanding of building materials
Architectural Project Manager Career Path
An architectural project manager works directly with clients and frequently travels to building sites to speak with other project managers to ensure that the project is proceeding as planned.
Experience and credentials include:
bachelor's degree in civil engineering or architecture
understanding of building codes
knowledge of how to solve design and construction issues
strong communication abilities
Healthcare Project Manager Career Path
Following the claims filing, a healthcare project manager works with customers to oversee coding, compliance, and reimbursement projects. Additional duties include managing papers and sending out messages about policy revisions.
Experience and credentials include:
undergraduate degree
understanding of medical coding regulations
strong organizational abilities
Excellent communication skills, both in writing and speaking.
Manufacturing Project Manager Career Path
For clients' needs to be met, a manufacturing project manager fosters communication between the business and its clients. A manufacturing project manager also manages the manufacturing process, controls quality, monitors safety regulations, and searches for ways to reduce procedures.
Experience and credentials include:
undergraduate degree
knowledge of manufacturing
knowledge of managing people
understanding of quality assurance techniques and recommended methods
knowledge of customer service and product delivery
Engineering Project Manager Career Path
Engineering project managers are involved in every step of developing a new product or improving an existing one. They are in charge of manufacturing, planning, development, and research. To achieve general satisfaction, these project managers frequently collaborate with other stakeholders, such as the manufacturing project manager.
Experience and credentials include:
good communication and writing abilities
ability to read blueprints
knowledge of mechanical devices
knowledge of CAD programs
good math abilities
outstanding organizational abilities
IT Project Project Manager Career Path
Software/IT project managers typically come from information technology, computer science, or software development backgrounds. They will be able to communicate with the software development teams they are collaborating with in the same language. Software project managers oversee deadlines, iterations, bug tracking, client demonstrations of new features, and other tasks.
Experience and credentials include:
computer science or a similar subject bachelor's degree
working knowledge and experience in agile environments
knowledge of programming languages like Java and SQL
strong management and organizational capabilities
problem-solving skills
Is project management a good career path?
High demand exists for this profession. By 2030, the global economy will require 25 million additional project experts to meet demand, according to the Project Management Institute (PMI)[3]. More than 280,000 job posts were from 2019 to 2020 for entry-level project management positions.
This job path can be fulfilling for those who enjoy working with people and have excellent organizing skills. It may be incredibly satisfying to plan and begin a project from scratch, work with others to overcome obstacles, and watch your efforts bear fruit. Since no two projects are alike, project managers can benefit by working on diverse kinds of projects and learning from each one. The rigorous nature of the job and the emphasis on achieving deadlines are potential drawbacks.
Internships for Project Managers
For on-the-job experience, people interested in the project manager career path frequently find some internship. Internships usually involve working as part of a team. However, they also provide the intern easy access to the project manager they report to, allowing them to see how the project manager does business.
The only way to acquire some of the qualities and skills required for this role is to work in a managerial environment.
Sponsored Listings
Reference
[1] Who Are Project Managers? "Project Manager Roles And Responsibilities" ActiveCollab, 2022
[2] Project Manager Career Outlook "Roles & Responsibilities of a Successful Project Manager" Research.com, 2022
[3] Project Manager: Upskill now "25 million new project professionals are needed by 2030" TechnologyAdvice, 2021