Local Butcher: Why Choose Them In 2023?
---
Local butcher shops sometimes seem like relics of the past, yet a few are still traditional. Some of them were established close to a century ago, and the butchers still do all the cutting. With a younger generation perfecting their butchering abilities and establishing shops specialized in turning whole carcasses into chops, steaks, roasts, sausage, and salami, this model has come back over the past ten years.
Sponsored Listings
Is Butchers' Meat Superior To That Found In Supermarkets?
There are two primary alternatives when buying meat: going to the butcher or the grocery store[1]. We frequently base our choices on convenience. You can find everything you need at a supermarket in one location and on one trip. However, there is no denying that the meat you can buy from a butcher is of higher quality than that found in a supermarket.
While you can save a few bucks at your neighborhood store, we are confident you will receive fresher, higher-quality meat there
Quality
Consider the meat in your local grocery store. It is shrink-wrapped, pre-packaged, and displayed until someone decides to purchase it. The fresh, substantial meat case you'll discover at a butcher is just unmatched by anything else.
Meat purchased from a butcher is typically acquired from nearby farms, keeping it fresher and cutting down the distance from the farm to your plate.
Meat from supermarkets is packaged in factories and stored on shelves until either it is purchased or its expiration date[2]. If you buy meat from a butcher, it will probably be cut as you wait, or the butcher will have already made the cuts that morning. It's challenging to match this level of freshness.
Since it has been raised responsibly without using hormones or antibiotics, you can feel confident about the meat your family eats.
Choice
Grocery stores frequently limit the types and cuts of meat they stock since they must stock a variety of foods. On the other hand, butchers can offer a variety of meat. A butcher shop is a place to go if you want to try something new! Along with your typical meat pieces, you can also discover specialty meats like pork liver, bone marrow, and beef tongue.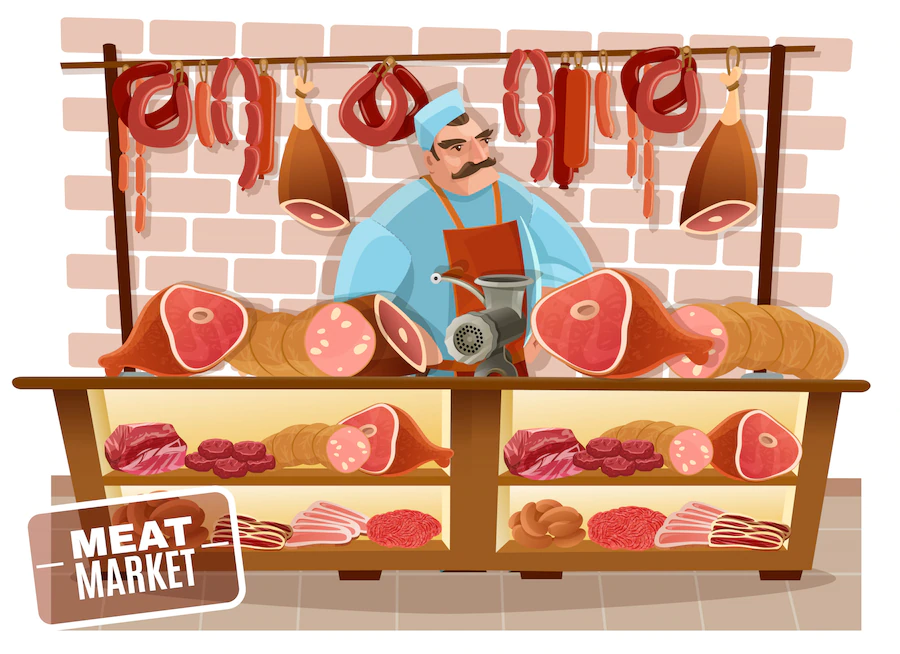 Cost
Although a butcher may charge more than a supermarket, you can be confident that the meat you are purchasing is of a higher caliber. As already said, butchers are much more likely to stock fresh, locally sourced meat. The higher the quality, as with many other things, the more expensive. Given that butchers must always compete on pricing, you should anticipate a realistic price range based on the type and quality of meat you choose.
Although butchers may also be more expensive, you may shop confidently, knowing that you're helping your community's economy.
Homegrown Products
Consumers place an increasing emphasis on supporting local businesses. The meat that local butchers use is frequently sourced from neighboring or nearby places. Shopping locally supports both ethical meat sourcing and local economic growth.
Insight
Need to be more particular about the ideal steak cut for your upcoming barbecue? Your butcher can steer you in the appropriate route regardless of your degree of skill. The cost would also be included in this group. Yes, meat from a butcher can occasionally be more expensive than meat from the grocery store. However, a savvy butcher can recommend alternatives that will help you save money without compromising flavor. You're receiving more for your money when you consider the difference in quality
Outstanding Customer Service
Other tremendous advantages of shopping locally include getting to know your butcher. Your butcher should provide excellent customer service because smaller businesses often struggle to compete with large chains. Your butcher will do all within their power to ensure that their meat is the greatest you've ever eaten, whether it be a custom cut, culinary advice, or special order!
Conclusion
When you enter a local butcher shop, you interact with a meat experts team. You can take advantage of their years (or even decades) of expertise by getting the most out of their service, which may include sharing industry secrets[3]. They can recommend less expensive options to other well-liked cuts if you're on a tight budget. Be bold and inquire about specials and ask inquiries at your neighborhood butcher. You can also check out best food delivery services.
Sponsored Listings
Reference
[1] Finding A Good Cut "How To Choose Meat At The Grocery Store" Kansas Farm Food Connection, 2022
[2] Supply Chains Transporting Meat "It's Easy To Overlook Where Our Meat Comes From" Massive Science Inc, 2018
[3] Meat Counter "8 Things Your Butcher Wants To Tell You" Hearst Magazine Media, Inc., 2011