How to Store Handbags And Preserve Them
---
Handbags are the perfect accessory for carrying everything you need for the day, but do you know how to store handbags? Whether you are working, shopping, going to the beach, or sightseeing, you need them. The types of handbags you add to your collection are a means for you to show off your personality.
Sponsored Listings
It could be challenging to stay organized with so many different bags for so many different events. You need a suitable method for arranging your handbags if you want to make the most of your storage space and easily and quickly locate the bags in your collection.
Do you always feel the urge to tidy and clear up your closets before the beginning of a new season? You feel more in control and at peace in a clean home. Organizing can be a go-to stress relief when feeling tense and out of control.
Where to store handbags when not in use can be a problem. While some bags can be fragile, others can be quite hefty. Some people have a huge collection of them. So it's crucial to have a decent storage method that keeps the bags organized and safe. There are choices to accommodate both large and small locations, and some of them need very little money and work to put into practice.
How To Store Luxury Handbags 👜
It's crucial to protect bags when not in use. Keeping your handbags neatly organized will help you maintain them for longer, ultimately saving you money if your bags are investment pieces[1].
Here are some suggestions on how to store handbags, ensuring they are organized and well-preserved.
Use Dust Bags To Protect Your Handbags
Put your purses in dust bags to keep them looking like new. But bear in mind that plastic bags can harm some materials before you make a purchase. Top dust bags are made of breathable fabrics like soft cotton. To the drawstrings or handles of the dust bag, fasten a tag with information about the purse.
Make Use Of Shelves
There are many ways to display your incredible collection of handbags using shelves. If you have space, adding a gorgeous bookcase to your room for your handbag display will give it a touch of glitz. You could actually use this method of storing handbags on any bookcase. Add some transparent shelf dividers to line up slender purses, clutches, and other handbags that have trouble standing erect.
With built-in dividers that keep your collection orderly and tidy, cube organizers and cube bookcases provide extra structure to the conventional bookshelf.
Want to keep the dust out of your priceless handbags? Use glass-doored display cabinets to see the pretty things while keeping dust off them.
Put Your Handbags In The Baskets And Bins
Using a handbag storage bin is another method to arrange purses and prevent them from spilling all over one another. It keeps everything organized and upright; of course, you may store your collection in more than one bin if necessary.
Wicker, cotton, and plastic are just a few materials that can be used to make containers. Containers are also available in a variety of sizes, making them ideal for a large handbag or numerous smaller ones. When you store purses in a closet, shelf, or under the bed, you should divide them into bins based on their colors, sizes, or shapes before putting them on a shelf.
Suspend Handbags From Hooks
Consider hanging your handbags on beautiful wall hooks to create a one-of-a-kind art show if your closet or a room needs wall decor. Hooks are an easy way to utilize vertical space when organizing handbags. The variety of hook alternatives is enormous.
A horse hook is a fantastic option for hanging multiple purses on one hook while still remaining out of sight in an area where they will not be seen. If you are more practical, a bike hook is a fantastic option for displaying several purses on one hook in an area where they will not be seen. Maintain a manageable weight so that you can still see each purse.
Just be sure that each bag's strap can sustain the weight of the bag because certain straps have a tendency to stretch out. Remove any heavy items from the purse before hanging them to avoid that.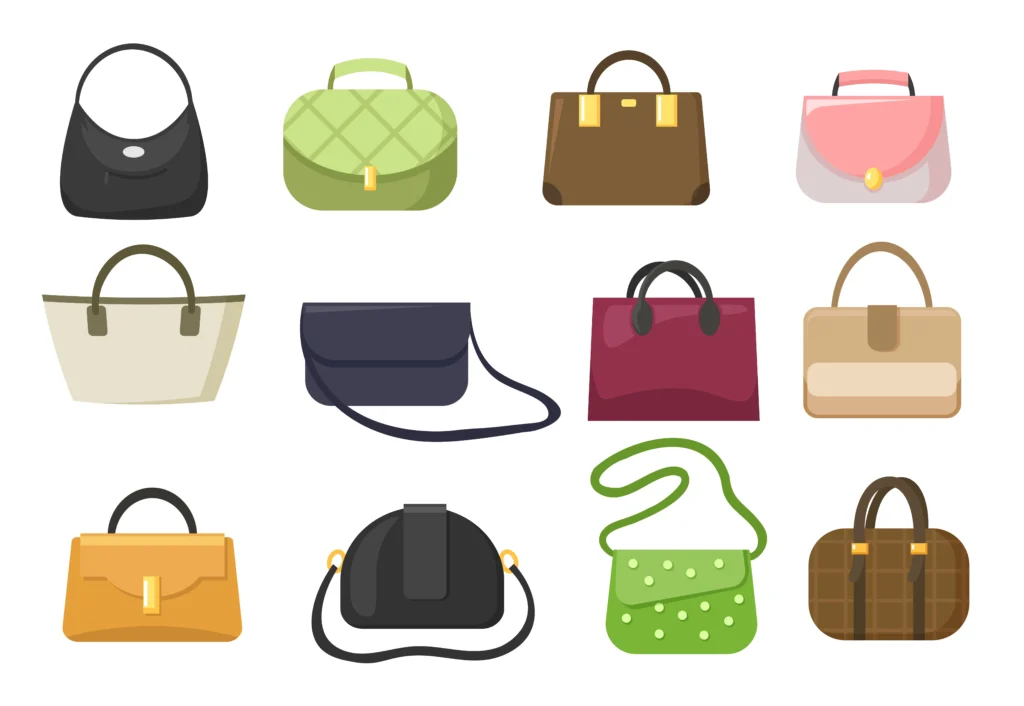 Insert Slim Bags Into File Or Magazine Holders
Stack your slim bags or clutches upright in a file or magazine holder if you have a lot of them. Along with hat boxes, memory boxes, and accordion-style file folders, you can also employ file organizers with horizontal shelves.
Another option is to stack smaller bags inside more oversized totes before laying the container flat. Everything will be shielded from dust and harm while maintaining its shape.
Make Use Of Vertical Bag Holders
A long vertical row of several hooks or clips to fasten bags is a common element of over-the-door systems. Some designs feature slots so you can slide the handbags into a softer pocket. Some allow you to store more than one handbag in each slot.
Consider using an over-the-door shoe organizer if you have a lot of clutches or thin wallets because the pockets are the ideal size for keeping these accessories secure.
For handbags, clear shelf dividers are ideal. You can purchase narrow ones to stand your slim purses upright on their own. You may showcase your favorite handbags or perhaps your entire collection of handbags all at once with the use of shelf dividers. You may even cram micro clutches and smaller handbags into the same cubby to make additional room.
Use Wire Baskets To Elevate The Storage Of Handbags.
A clever technique to keep items confined is with wire baskets. Use the remaining space for other purses, as seen in this photo from Lisa Jacobs of Imagine It Done. Place your smaller clutches and wallets in these.
Maintain Your Form Using Tissue Paper And Bag Shapers
Place packing paper, white tissue paper, pillow purse inserts, or shapers inside each bag to help it maintain its shape while being stored. Never use colored newspaper or tissue paper. Both can cause ink or dye to bleed onto your bag's fabric[2].
Conclusion
Now that you know how to store handbags, you see they can be stored in a variety of ways. The majority of handbags are made of leather or other sensitive textiles; therefore, they should never be stored in a plastic container. Put your bags in breathable dust bags to keep them secure. A handbag that is unable to breathe runs the risk of developing mold and mildew as well as premature deterioration.
The easiest method to maintain your handbag collection is to ensure that each one is well-organized and preserved[3]. You can experiment with levels and other storage solutions to achieve your desired style and amount of organization.
Sponsored Listings
Reference
[1] Keeping The Handbags Valuable "17 Luxury Handbags That Are Actually Worth The Money, According To Experts" Cable News Network, 2021
[2] Why Do Fabrics Bleed, Crock, And Fade? "How To Prevent Fabric Color Transfer, Bleeding, And Fading" The Arena Media Brands, LLC, 2022
[3] The Organization Equation "The Ultimate Room-by-Room Organization Guide" WebMD LLC, 2022