How Much Are Office Cleaning Services?
---
Wondering how much are office cleaning services? Are you looking to hire a cleaner or getting ready to start your own cleaning business? In either case, knowing how much charges often cost and why is essential, as it will help you assess the price of a cleaning service.
You can get the prices of competing businesses by asking them. However, keep in mind that, like any other cleaning service, office cleaners bill by duty and the amount of space that needs to be cleaned. Expect the charges to be different if it's an emergency, and expect discounts if the service occurs frequently. Whenever you speak to a customer service agent at a cleaning company, be specific about what and how much you need cleaned. Also, ask for a list of available discounts and promotions. A one-time cleaning service will cost more than recurring cleaning sessions. Note that numerous factors influence office cleaning costs.
Sponsored Listings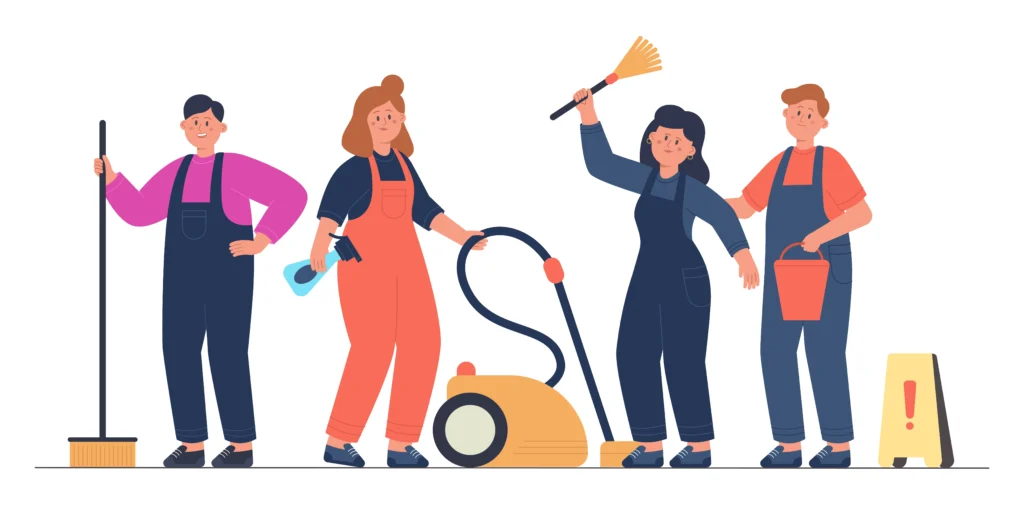 Factors That Determine How Much To Charge For Office Cleaning Services
Office Cleaning Rates Per Square Foot
How much do cleaning services charge for offices depends on the space that needs cleaning; office cleaning costs vary. Office cleaning professionals near you might charge between $20 and $80 per hour. Professional teams may be estimated more highly than individuals. Cleaners may bill by square foot for large or multi-floor workplaces or facilities. Office cleaning jobs typically cost $0.11 per square foot, but they can cost anything between $0.04 and $0.50. For an office building that is 12,000 square feet or fewer, budget between $0.07 to $0.15 per square foot. Office cleaning service costs per square foot are often cheaper for larger offices. Utilize a square footage calculator to establish the size of the area marked out for cleaning. If you don't want to measure the square footage manually, you might consider checking the builder's drawings or property records. The space's square footage may occasionally appear in those places. A skilled cleaner can finish cleaning 1,000 square feet in an hour. Nevertheless, cleaning up neglected areas can take more time. Cleaning such square footage will be more challenging in these areas, so you may need to double or triple the time required.
Office Cleaning Hourly Rates
To handle activities like sweeping and mopping floors and other business cleaning duties like dusting surfaces, cleaning bathrooms, and taking out the garbage, hire a local office floor cleaning service. Office cleaners occasionally perform more specialized tasks like floor polishing or pressure cleaning a building's exterior. An average pricing range for cleaning is $50 to $100 per hour for each worker assigned to the task. Companies that bill by the hour may offer a free price quote primarily based on the time required to clean a specific area. The time required to clean a given area may vary depending on what is needed, so the actual cost may differ from this estimate once the task has concluded.
Number of Crew, Frequency, Tool, Skill and Cleaning Products
How much to charge for office cleaning services depends also on the office space needing the service. Every organization can benefit from hassle-free office cleaning services provided by professionals. Despite offering the comfort of a cleaning crew, professional cleaning service firms charge higher fees than individuals. The budget for office cleaning services should depend on the scope of the work, the duration of the cleaning, and whether you need cleaners on the night shift. Costs are heavily influenced by frequency, however. The office may need a deep cleaning before the yearly holiday party or monthly cleaning to stay organized. Regular cleanings are likely to qualify for discounts, making them more affordable than one-time cleanings. Service providers may have to charge more for cleaning if they must provide all or some of the necessary tools, supplies, and consumables.

Hiring an Office Cleaning Service
On a final note to your question on how much are office cleaning services, remember that professionals have the tools and specific cleaning supplies to leave the office pristine. You and your staff can spend more time managing work by hiring a professional rather than doing it yourself. Additionally, if there is less mess to clean up and thus fewer labor hours, professional cleaning services may charge less. A cleaning company representative must tour the facilities before signing contracts and receiving an initial quote. The visit will provide the representative with a better sense of the client's expectations and facilities by enabling them to confirm size, number of duties, and other factors.
Sponsored Listings
References:
[1] Other Commercial Cleaning Cost Factors
[2] Hiring a Service
[3] Average Commercial Cleaning Prices Square Foot